---
Runcall has developed a complete suite of applications for Helpdesk and quality control, which would allow your agents working more efficiently and a better control and optimization of the performance of your customer care service, technical support or emergency services.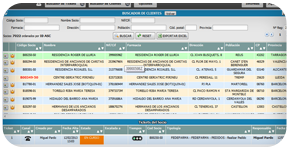 The Helpdesk Application Suite consists of the following products:
Runcall Ticketing:

CRM System case management for basic operational center customer service, technical support, order taking center or emergency service.

It is the base module for other applications in the suite.

Runcall Agent CTI:

RC Complement Ticketing, allowing the agent to control and monitor your calls.

This is what in the jargon is called call center 'slider phone', with buttons to pick / hang up, transfer, encumber, etc.

Runcall Messages:

RC Complement Ticketing, that automates the sending and receiving messaging (email, fax and sms).

At the reception, the messages it receives the focus, as cases are imported directly from the ticketing tool, discharging the agent routine tasks of little value.

Runcall Connector:

RC Complement Ticketing, which allows integration of our tool with CRMs or ERPs Client (SAP, Siebel, MS Dynamics CRM, etc).

Thus, the ticketing system acts as a unified front-end which can be controlled from the other back-office applications company.

Runcall Scripting:

Complement Ticketing RC, which allows the generation of scripts for the agent.

The argumentaros let you define a standard script for the conversation of the calls that facilitate the task of the agent, while controlling the quality of the efforts of these.

You can integrate with Messaging RC tool to automate the sending of emails, the content of the forms of the argumentation.

Runcall Autodialer:

autodial system for outbound campaigns aimed at telesales, telemarketing, collections or consultation visit.

Progressive and predictive dialing allows.

Runcall Report:

Combined report system calls and cases (tickets).

Provides a comprehensive view of agent activity and levels of quality of service provided by the customer care service.

Runcall Wiki:

Ticketing RC Complement consisting of a case management system and solutions.

He brings to the company a database of knowledge management.


 
The ideal for applications is the powerful helpdesk management system quality RunCall: eAlicia, a comprehensive system of quality management, in Cloud format